The Chinatown Wars van
Jump to navigation
Jump to search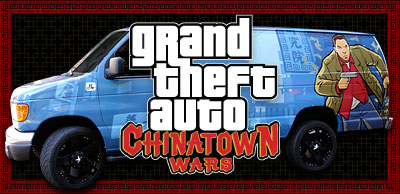 "Earlier this year, a fleet of customized Chinatown Wars vans were set loose across America - dispensing stickers, limited-edition Rockstar t-shirts and giving fans an early look at Grand Theft Auto: Chinatown Wars on the Nintendo DS. Eager fans from stop to stop responded with delight, snapping up goodies and gleefully getting their hands on the game for the first time.
With the launch of Chinatown Wars on the PSP imminent, we're readying the vans for another nationwide tour.
The Chinatown Wars van will be on hand at the Sony booth for select dates from the Dew Tour, starting with the Toyota Challenge at the Energy Solutions Arena in Salt Lake City, Utah - September 18th to the 20th. We'll also be at the PlayStation Pro at the Amway Arena in Orlando, Florida - October 15th to the 18th. For Dew Tour event information, check out www.allisports.com/tours/dew-tour.
We will also be joining our friends at DUB for upcoming stops on the DUB Show Tour. September 26th in Miami at the Miami Beach Conference Center and October 18th at the National Orange Show Events Center in San Bernadino for D-Day L.A. '09. Visit www.dubshowtour.com for all the particulars.
Look for many more tour stops to be announced as details get finalized - follow us on Twitter or check back to the Rockstar News Wire for updates - and if you see the van in your town, tail it." - R* Newswire